Irving Oil Field House Child Care & After School Programs
For more information on Child Care and After School Programs at the Irving Oil Field House, please contact Katelyn Fox via email (k.fox@saintjohny.ca), or by calling 506-717-4079. Please find the appropriate registration forms below.
Child Care Program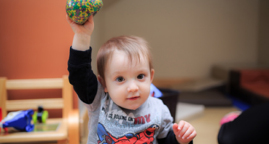 There's no job more important in the world than being a parent. But when it's not your only job, our YMCA Child Care programs are here for your family.
Childhood is a special time when the seeds of future success are planted. Our YMCA Child Care programs are based on curriculum that encourages the physical, mental and social development of your child.
After School Program
Time gaps before and after school can be empty and lonely for kids — and a challenge for busy parents. YMCA of Greater Saint John's before and after school licensed care offers a healthy solution.
Kids have fun and develop confidence while spending time with friends in a safe and caring environment. Parents can rest easy knowing their children are active and learning.
Summer Day Camps
Keep your kids active and happy during the summer break while helping them grow and learn! YMCA Day Camps offer kids ages 5 to 15 fun-filled days of activities like swimming, arts and crafts, sports, and games. Watch their confidence grow as they make new friends, have fun, and develop lifelong skills.